Friday
last week, I was sitting at the dining room table of
the most indomitable Stitch Rip-Her
along with jammer killa
Lacee Long Stalkin'
, having a bit of derby meeting and chit chat, while Stitch's four year old son and my boy played around us. Lacee, as much as she'd like to think of it as being out of character (though it's not so much while we're allowed to call her 'Lacee'),
dropped the F-bomb
shortly into the meeting. Immediately afterwards she registered the young ears in her presence and began to apologise to Stitch and I. To which we said,
'Phhtt, whatever.'
I don't want to make light of this, but the word 'fuck' isn't going to rattle either me or my kid.
Don't let that scare you.
I have a normalish family
. We're actually pretty nice vegan nuclear-type, a boy and a girl, two cats, who mow their lawn and vote 'n shit. The Man works out of the house and I work in it so I can be with our children. I bake muffins and come up with clever ways to turn empty ketchup bottles into craft supplies. It's all very
Leave it To Beaver
, assuming Ward and June had tattoos, facial piercings and enjoyed the occasional zombie apocalypse on the big screen.
In addition to being mama, wife and pack mule, I also am an athlete. Okay, I don't look like Sporty Spice and
I don't wear yoga pants on the school run
but I do play a sport and spend a ridiculous amount of time practicing, thinking, writing, studying, and playing it. Under all this mama softness is some serious muscle.
Me NSOing. Rudeness comes complimentry to the main service.
Photo by Anthony Canada
So, okay, my sport is sort of on the fringe culture-wise. There are many things said about derby and the most often used terms in the media are fishnets and bitches. Of course,
us skaters know better
. I have met many smart, dedicated and insanely tough women (and a couple of men too) playing derby but
I've yet to meet a 'rollergirl'
, that vampy cartoon nurse/housewife turn violent vixen at night. So, it's a good thing derby kids live with real women, not caricatures, because then they truly would be orphans. Even if real women (shockingly even ones who do not play roller derby) do say the c/f/s/d-words occasionally.
Kids come along with derby like stink comes with wristguards. Sometimes they're at the arena but mostly they are at home watching mom do planks during
Sponge Bob
, or rifling through the derby drawer trying to find just the right fishnets to play ballerina dress up. They are the witnesses to the behind the scenes action. The
hard work
involved in
moving
butt cheeks two inches
higher during the first six months of practice, the healthy breakfasts and protein smoothie snacks. They are the ones
failing to give mom any privacy
in the bathroom while she reads the WFTDA rule book. They hear the long laments about how no body can figure out how to make tights that don't cause muffin-top and see the hours doing paperwork, phoning sponsors and vendors, stuffing goodie bags or whatever it is that mom does extra for her league.
Hard work, reading rules, healthy eating, exercising...
uh-oh
, derby might start losing its bad-ass image if I keep revealing its secrets.
Alright, kids also pick up a few other things
. Derby orphans may occasionally hip check their friends as a sign of affection. They tell grandma that mama can't come to the phone because she's halfway stuck in her sports bra, getting ready to hit some bitches. The may decide to play 'blocker' to you when they don't want you to walk away from them and 'jammer' if they don't want you to catch them at bedtime. They may decide to
poke your bruises
to get back at you after you make them shampoo their hair.
Kids always learn from sports
. Playing and watching. Think of mainstream sports like hockey, wrestling, baseball and football. They learn teamwork, hard work, preparation, self esteem, humility, how to sweat and give an effort to be proud of.
They learn they are strong and capable.
And they learn other things. Like smack talk and disrespect of officials and bullying of weaker players. They learn their job is to 'Kill!' Oh, and do their best. They learn to run out in the streets and
randomly trash shit
because their team lost. Or because their team won. It's a religion, it's the only way to make a parent proud, it's another way you'll never fit in.
Roller derby has the potential to teach any of those things to our youngest people. It can be good or bad.
Usually it's a mix of both
. But it is up to us, the kids are paying attention, and even if there is no child around, you are probably talking to a mama (either now or in the future). What impression are you giving? What's your main message?
It's up to us, bitches. How's it gonna be?
Here's my suggestions: We show them our sweat leads to more play time and our
dedication leads to self respect
. We show them how to fail gracefully and then pick themselves up and try again. We show them how to work cooperatively to run a league and to
respect strength and integrity
in others, whether they be your teammates or not. We speak well of each other, focusing on encouraging and raising spirits, and
not worrying
if the occasional shit or fuck works its way through the conversation.
All this positive stuff and we get to hit bitches too? How
fucking
rad is our sport?!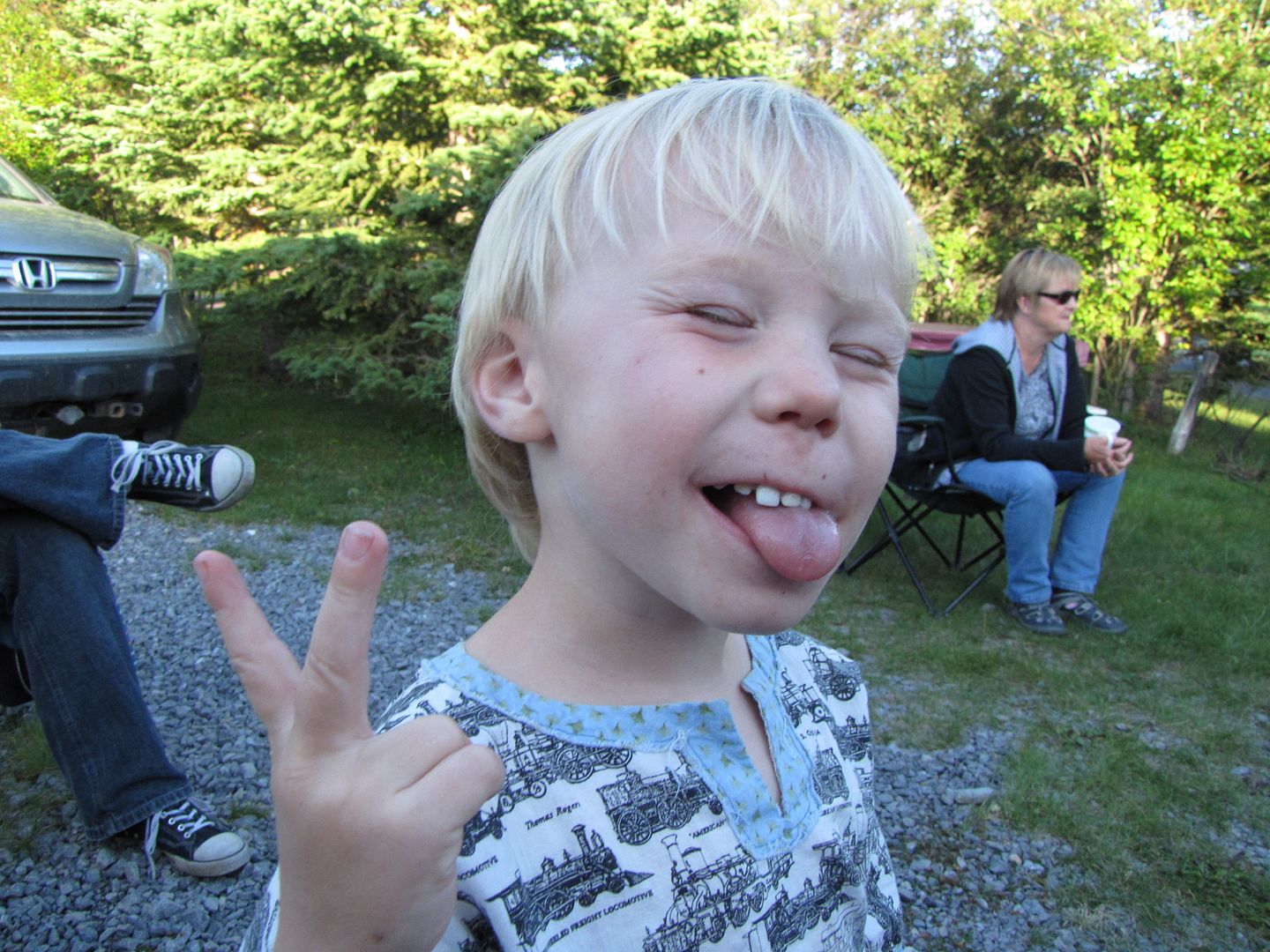 The boy assuming his camera pose. Wonder where he got this idea from?
Photo by mama